Once again.
So the Shelf Project v2 is finally done. Plenty of work, but worth the effort, I think. Those chairs aren't for sitting, btw- that's why there's (deliberately) no headroom above them. Sentimental, those…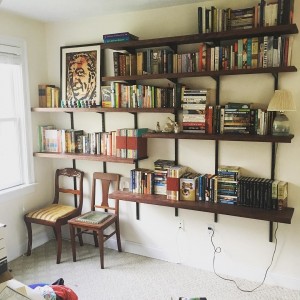 Small Parts Storage Unit 1 is completed. It's loaded with some of my parts cases, but I'll be building a second just like this very soon- that will have removable inserts for holding plano boxes of very small parts, as well as some shelf units to hold 2nd tier tools (like my sewing machine and typewriter).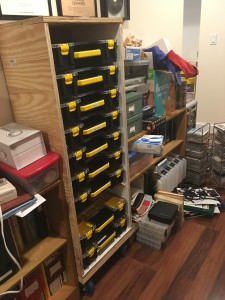 HSP #1 Hardcopy is out in the wild. This is a shot of the master copy. Download is here.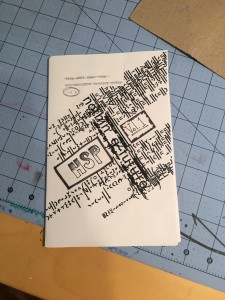 Still do do:
2 record boxes for holding 7″ records (or, as you might call them, 45's)
Aforementioned second parts box rack
A flat file for holding large pieces of art. Sometimes called a "map file."
Starting to look at better monitor options for the home office.
Starting to shoot more video again- my new Glif came in (finally!), and so I can put my lovely phone to better use.
A new desk surface on my desk. It's currently metal, but I'd like a nice slab of wood (with some features to better suit my "standard" setup). Currently thinking about double-thick 3/4″ plywood, but that may change.
New custom shock mounts for my car's rear shock absorbers. This simply requires some available downtime.
Started working on HSP #2 hardcopy. Currently amassing material.